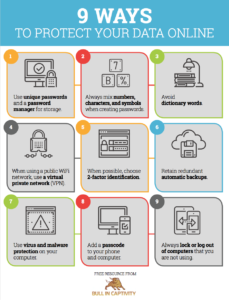 Use unique passwords and a password manager for storage.
Always mix numbers, characters, and symbols when creating passwords.
Avoid dictionary words.
When using a public WiFi network, use a virtual private network (VPN).
When possible, choose 2-factor identification.
Retain redundant automatic backups.
Use virus and malware protection on your computer.
Add a passcode to your phone and computer.
Always lock or log out of computers that you are not using.
Please ask permission before sharing or modifying this infographic.