Our house has this awkward space at the far end of the garage. It is two feet deep by about eight feet wide, a weird slanted step at the end, and a concrete base. The area is a prime storage space, but past attempts to utilize this space have been abysmal.
Here is a picture of the space in question.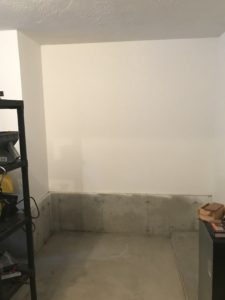 No premade shelves utilized this space to its potential. They were either too short or not wide enough.
I needed a way to add garage storage space, but not any storage. The shelves are going to hold large tools, so the whole system needed to be strong and my toolbox needed to fit on the wall for smaller tool storage.
Above all, the whole project needed to be inexpensive.
This is a look at the final product.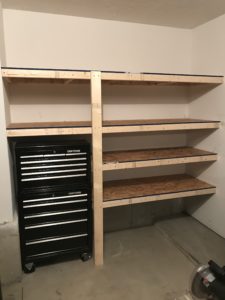 I started by measuring the heights of some of the tallest tools and bottles. I decided on two shorter shelves and two taller shelves so that I wasn't wasting space.
I framed the shelves around the toolbox using 2×3's and 3 1/2″ deck screws.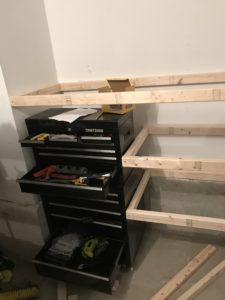 I find myself using Deckmate screws for everything. If you've never used them, you need to. The polymer coating, pre-drill point, and a star drive make these things a dream. A third of the shelving budget went toward the purchase of a new box of screws since I was out.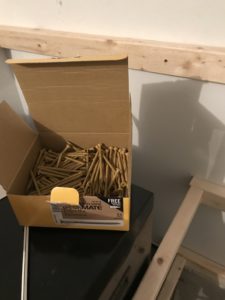 Having three studded walls around the shelves made the frame rigid and the task of securing the shelves easy. I added support braces between the shelves to add more rigidity and support for heavier tools.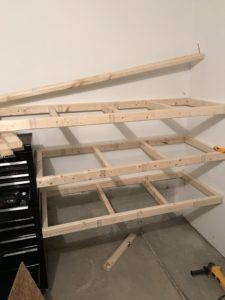 For the shelves themselves I used 3/4″ strand board. A little heavy, but it fit the bill for the project.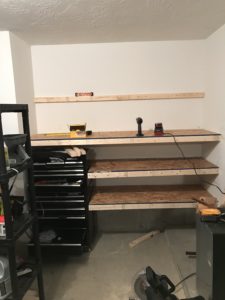 The two bottom shelves didn't have any support in the front left corner, so I added a 2×4 for compressive strength. That board made all the difference in taking these shelves from strong to crazy strong. I even used the bottom shelves as a platform to stand on when framing the top shelf.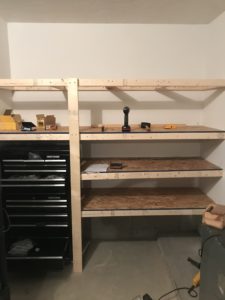 I added the final sheet of strand board to the fourth and final shelf, and the unit was ready to be put to the test.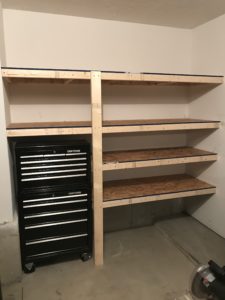 Here is a picture of everything loaded on top.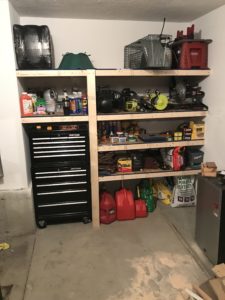 These garage shelves made all the difference in storage space. Tools like my chop saw and router table now have homes off the floor. Gas cans are no longer huddled against a wall with no ability to stack anything above them. The shelves are two feet deep and stable so there is plenty of room boxes of screws, stain cans, and even a Christmas tree stand.
The ability to stay under $100 on a project that adds so much benefit to my day to day life is pretty awesome. This build was the perfect mix of strength, efficiency, and functionality.