I've been doing the annual review of my 403B, which is like a 401K, but for public employees. Since we are shooting for early retirement, my contributions go into a Roth account. This allows the Mrs. and I to pull money out of the account before 65 without any penalty or tax since the contributions have already been taxed. This is different than a traditional retirement account contribution, which is pre-tax. Tax is paid once you withdraw the money in retirement.
For early retirement hopefuls, the choice of a traditional or Roth account is a no-brainer. You can use the Roth to enable withdrawals before your traditional retirement age without a penalty. There are ways to get around this, including a Roth ladder strategy, but these strategies are always at the risk of changing political climates and regulations. I would hate to have my retirement plan based on loopholes that may not be there when I retire.
When talking to some of my coworkers, they were dumbfounded that I chose the Roth option. They asked, "Why would you want to pay taxes now when you could pay taxes later in retirement when your tax rate is lower?"
This is a valid concern and one of the biggest selling points of the traditional retirement account, like a 401k or IRA. However, there is a lot of trust in this statement. For this to be a valid selling point, tax rates during retirement would have to be less than your current rate. For traditional retirees, this could be 20 or 30 years down the road.
Gambling on what tax rates will exist decades from now doesn't seem like a safe bet. However, the Roth option eliminates this gamble regardless of whether you are looking toward an early or traditional retirement because you pay taxes now.
Without getting too political, the government raises tax rates mostly on higher incomes. So, unearned income, such as capital gains is always a target for higher rates. For those who haven't had to deal with this on their taxes yet, capital gains is the amount earned from increases in investment value. Unless someone has the goal of a lean early retirement, an early retirement account will likely have over $1 million.
This makes a retiree an easy target for increased tax rates, especially since their post-retirement income will come from investment income. For this reason, locking in current tax rates now with Roth or post-tax contributions protects you from future tax increases that would affect traditional retirement contributions, which are taxed later.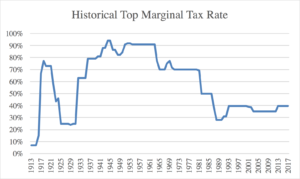 Perhaps this sounds like a conspiracy theory, but are tax increases all that uncommon? Are capital gains tax increases unheard of? In the 1950s the highest tax brackets were a whopping 92 percent. In addition, long-term capital gains tax rates, which are most applicable to retirees, were 40 percent in the 1970s and 28 percent in the 1990s.
It has only been recent that long-term capital gains rates have been relatively low. In fact, we are at the lowest tax rate ever for long-term capital gains at 15 percent.
With so much federal debt, taxes aren't going to decrease for capital gains earnings. If anything, they will likely go higher, which would not be a hard sell to the voting public. This is because the current rates are historically low. Also, capital gains has always been viewed as a "rich man's" income, making it easier to agree to increase tax rates.
Tax rates change frequently and these changes can be large. To reduce the risk of paying more in taxes upon retirement, investors seeking both early and traditional retirement should consider using a Roth designated savings plan in combination with a traditional pretax retirement account.
Data Source: Eugene Steuerle, The Urban Institute; Joseph Pechman, Federal Tax Policy; Joint Committee on Taxation, Summary of Conference Agreement on the Jobs and Growth Tax Relief Reconciliation Act of 2003, JCX-54-03, May 22, 2003; IRS Revenue Procedures, various years. Compiled data from taxpolicycenter.org