Going paperless was the best decision I have ever made when it comes to financial efficiency and even general day to day life efficiency. I'm going to lay out the basic guidelines I followed on my path to going paperless. This wasn't an easy task, but the rewards are huge. I now have more time, less clutter, and a decrease in stress I would have never imagined.
I have considered going paperless for a while now, but I was held back by the intimidation of the process and my lack of knowledge about the available products and services available to make this goal an actual reality.
I decided to bite the bullet over the holidays. I had a week off and I knew this would be my one shot to go completely paperless in one swoop.
Getting Started

: The Four Pile Plan

But, before I could start, I needed to acquire what I considered the necessary materials.

The only two pieces of "equipment" I purchased were a shredder and a portable scanner, which I will discuss later. I knew I needed to have somewhat of a system of how this was all going to work out. I needed a plan, but not only get rid of current paper, but to continue the cycle of getting rid of the paper as I acquired it. The scanner and shredder were the keys to lessening this burden.

The general process I wanted to use was one that eliminated most of my need for paper. It also was to scan important papers to a secure area and then shred it, so it could never clutter another desk or fill another filing cabinet again.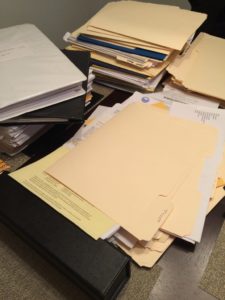 The first step was to collect all paper, and I mean everything. I pulled out old grad school notes, awards stuck in the back of my filing cabinet from high school, copies of speeding tickets, old leases, and every scrap of paper I could find.
Since I organized most of this paperwork at one point of time, the piles of paper I was creating had some sort of organization to them, despite it looking like a paper Stonehenge on my dining room table. This ended up being a big help because as I scanned each paper, they were easy to group together in files. Although this helps, it is not at all necessary.
For the actual scanning of documents, I had a few choices. I could go with the extremely portable Doxie Go scanner or a more expensive commercial scanner. The difference is about $300. Since my goal was to get rid of paper almost completely, the commercial scanner seemed like an unnecessary expense for a one-time paper purge. The Doxie scanner is cordless, so it saves files on the actual scanner until you upload them to a printer.
If you have a ton of papers, as most people do, my advice is to take it piece by piece. Start by grabbing one mountain of paper and divide it into four piles. This makes the process so much smoother than going through paper one by one before scanning. Here's what to do with the four piles:
Pile One: Trash – This pile is for paper that you either don't know why you kept it, or you kept it because you needed it eight years ago, but now it makes no sense to keep it. It is important that no personal information be on the documents in Pile One.
Pile Two: Trash and Shred – This may contain the same papers as Pile One, only you need to shred these papers instead of trashing them. Maybe it's an old checkbook or monthly statements from an account that no longer exists.
Pile Three

: Scan

and

Shred

– This is the paperwork you save to make your life It is paperwork you want to keep, but you may not need an original copy of it, which is pretty much everything.
Pile Four

: Scan

and

Keep

– These papers are the rare items you want to scan, but you also plan to keep the original. This pile should be incredibly small, containing things like birth certificates, marriage licenses, deeds and other important documents. After going paperless, I only have six pages of Pile Four
Once I finished sorting the first mountain of paper into the four piles, I trashed the first pile and shredded the second. As a side note, this is when I realized that shredding is an awesome thing. The little boy in me who liked to tear things apart came out and I could feel the power of turning documents into shredded remains.
The Fun Beings:
Shredding and Scanning
As for my shredder choice, I went with the Amazon Home Shredder. It was inexpensive and got good reviews, but most importantly, it also cross cuts paper, which means the security level is much higher. Instead of cutting paper lengthwise in strips that, according to the movies, the bad guys can easily put back together, the cross cutting process turns documents into tiny pieces by "cross cutting" each strip of paper.
The scanning started smoothly. I finished scanning the few hundred pages of my first paper mountain into the scanner, and then plugged it into the computer to upload the files. The upload process is extremely easy. Doxie has a program that runs as soon as you plug in the scanner. You can edit and rotate any of the documents, as well as any "staple" documents that belong together into one PDF file.
After going through the documents to make sure the scanning went smoothly, I started saving them to the computer in a folder I created called "Scan Inbox." I highly recommend this method. Opposed to sorting all the documents now, wait until you scan everything and then create your file organization structure.
It is important to name documents with detail. Naming scans as "scan1," "scan2," or "scan2345," is too vague and will only be miserable for you to sort through later. Name the documents as you save them, so that sorting through documents later is not akin to a task from Dante's Inferno. Name like documents with a similar structure. For example, "01/31/15_Bank of America_Statement" and "02/28/15_Bank of America_Statement."
Be sure to read the above paragraph again until you understand it, because your naming structure will make or break your paperless process.
When it was time to shred my first pile of paper, the fear of God hit me. At this exact moment, I thought of every possible bad thing that could happen. What if my computer crashes? What if lightening strikes my house and fries my computer? I could lose all my documents after I shredded the originals – all valid worries.
A Word About
Document Security
Needless to say, I pushed the pause button on the shredder and created a file security system with the help of Dropbox and Carbonite. When I say "created," I mean I signed up.
I had previously used Dropbox before and have never had any issues, but I never used it to hold everything, but mainly just to share documents. The key to Dropbox is to download it onto your computer, so it becomes another folder in "My Computer" for PCs and "Finder" for Macs.
Once you save documents to this folder, they automatically synch to your online account where you can access them from anywhere with an internet connection and on any computer where you have downloaded Dropbox. I ended up downloading Dropbox on my work computer, iPhone, iPad, and MacBook. Now, I can view and edit any of my documents anywhere.
Dropbox wasn't enough security for me to completely go paperless, so I took the next step of downloading Carbonite for my home computer. Carbonite continuously backs up files on one computer. Since my Dropbox folder was now a part of this computer, Carbonite backed it up.
In addition to Dropbox and Carbonite, I have an external hard drive on my computer as another backup. The benefits of all these fail safes are mainly psychological, but I sleep assured that some crazy stuff would have to happen for me to lose my documents. How crazy you may ask?
Well, let me tell you.
For me to lose my files, Dropbox, the multibillion dollar tech company, would have to crash or lose my files. In addition, all of Dropbox's independent backups would also have to be destroyed. The servers at Carbonite where all my data is stored would have to be destroyed, too. Carbonite has multiples of these servers across the country, so it wouldn't be affected by a normal natural disaster. If both Dropbox, Carbonite, and their servers were to disappear, my personal computer would have to crash and my external hard drive would have to fail.
Now I'm not saying this is not at all possible. All these things could happen at the same time, but if they did, I'm sure I would have a lot more to worry about than what happened to last year's tax return.
Back to the shredding, once I had my file security procedure setup, I saved all scans to the Dropbox folder and shredded with my mind at peace.
Over the next three days, I continued the process of sorting, scanning and shredding though the entire paper mountain range. When I finished this process, I only had a small folder of papers that were "keepers" and a file on my computer with thousands of documents. This took three days of on and off work on the project, but I kept mainly on task.
I created three easy folders: Home, Work, and Business. In the Home folder, I created other folders: Finances, Legal, Taxes, Vehicles, Bills, Health, Music and Photos. Within the Finances folder, I created folders associated with certain accounts, like Bank of America, Prosper and Vanguard.
I followed this same process of breaking down the three main folders. Once I completed the first breakdown, I started dragging and dropping my scanned documents into their respective folders. While it sounds daunting, this process does not take long compared to the scanning.
You will find that you may undoubtedly forget a certain account, or need to add or combine folders. This is the point of this step. Be methodical and sort the documents in a way that makes finding the documents extremely intuitive. Essentially, you are sorting a large filing cabinet that you will have with you at all time.
The Benefits of Going Paperless

: What I Learned

When I was completely paperless, I was not only impressed by the seven bags of shredded paper I needed to recycle, but with all the free space, both physically and mentally. I never have to remember what I did with a certain document. I will no longer have to scour through papers to find my cable company or utilities account number. These documents are only a quick search away.

As an example of paperless benefits, my wife and I were recently switching banks and therefore needed the routing number of our bank for direct deposit at work. Normally this would be somewhat of a hassle; however, all I did was open the Dropbox app on my phone and search for the bank account opening documents and wrote down the routing number.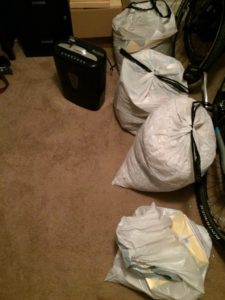 This is not the first time in the past few months of being paperless that this new efficiency adjustment has come in handy, especially when it came to taxes. As we received tax documents, I scanned them in like normal, sorted them into my 2015 Tax folder and opened this folder to complete the tax return on Tax Act. When I finished the return, they gave me the option to download my completed return, which I saved as PDF to that same folder in Dropbox. It was a sweet circle of paperless perfection. Paperless taxes were a part of the dream.
As a side note, for those of you who use accountants, you can share a Dropbox folder with other users. You could add all your tax documents to one folder like I did and share it with your accountant. You can have your accountant or tax specialist save your completed return to your Dropbox file, and then all you have to do is un-share the folder upon their completion.
The paperless process has been good to me, and I am finding the rewards to be greater than I originally imagined. I have gone paperless on all my financial statements and bills, which has drastically cut down on paper coming in. It also helps the environment, so it is a win-win. For any documents that do happen to appear, I started a small pile on my desk of papers that I need to scan. Once every week or two, I'll take this small stack of papers, scan them in, save them to their appropriate virtual file and shred the evidence.
If you want to achieve financial independence, I recommend you cut down on your dependence on paper. My finances are more organized, safer and more easily accessible than ever before. Hopefully this article has helped you to see the light when it comes to a paperless lifestyle and gives you the guidance you need to go the distance.